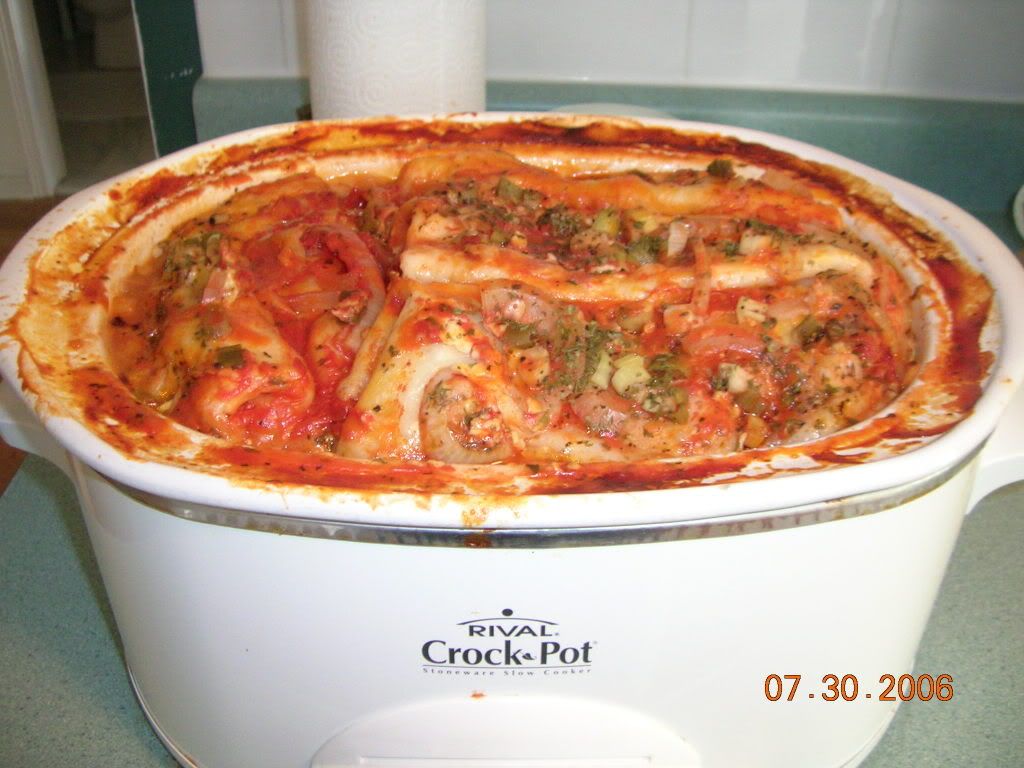 2 Onions, sliced
3 Cloves garlic, minced
1-2 Jalapeno peppers, thinly sliced
2 Tomatoes, chopped
1 can Tomato juice (2L)
Dried parsley
Dried Basil
Ground peppercorn

8 Flour Tortilla (large size)
Shredded Chicken
1 c. Green onion, chopped
3 c. Monterey Jack cheese, shredded
Place a layer of vegetables and herbs on the bottom of the slow cooker: onions, garlic, jalapeno peppers and tomatoes. Sprinkled with parsley, basil and ground pepper. Cover the bottom with a bit of tomato juice.
Pour tomato juice into a large bowl. Dip a tortilla in the juice, turning to moisten all parts of the tortilla.
Lay the tortilla on a plate and spread with shredded chicken, green onion and cheese. Fold the ends over and roll up. Lay the stuffed tortilla in the slow cooker. Repeat for the remaining tortillas.
Between the layers of tortillas, add a layer of vegetable and herbs mixture. Finally, place the remaining vegetables on the top tortilla layer.
Pour in the remaining tomato juice into the slow cooker.
Cook on low for 8-10 hours.
---
My Comments:
Who would've thought you can make enchiladas with a slow cooker? Haha...
I served the enchiladas with sour cream and homemade
guacamole
. It was delicious!
I must confess: I didn't follow the recipe and I almost made a mess of things. The enchiladas tasted pretty good but I think I put in too much tomato juice. The tortillas swelled up and the tomato sauce started bubbling out of the sides. I sucked out the extra juice and put aside. It was nice to have the extra liquid when we were packing leftovers for our lunches. Also, because the tortillas absorbed so much moisture that everyone at the table thought it was pasta, rather than a flour tortillas! Heehee... :P
Next time, I think I will try this recipe again with real tomato sauce rather than tomato juice. I will also use the oven to cook this instead of a slow cooker. I got the original recipe from a slow cooker book, but I thought it was unnecessary to cook the enchiladas to death, esp. since all the chicken were pre-cooked.